Kiting is a beautiful full-color magazine issued 4 times a year to all current members. Also check out the online-only
Kiting+
Welcome to the AKA!
Have you seen our new website?
We are pleased to report that our
new
AKA Web Portal is going strong and ready for you to browse, click the link below!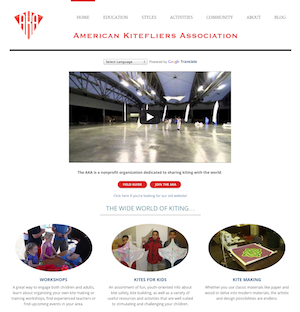 The first step toward making our services and benefits available to more people, the new web portal has been designed to provide a more user-friendly, educational and media-rich environment for both the general pubic and kitefliers alike.
NOTE: The entire "front end" is complete on the new site, but all member functionality (sign up, renewal, forum, etc) are still found on the older website (www.aka.kite.org, where you are now).  We are currently working on solutions for moving and streamlining these functions on the new site, we appreciate your patience during this transition.