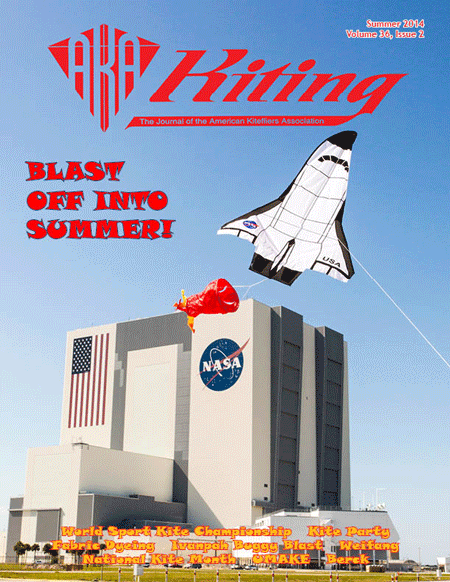 Kiting is a beautiful full-color magazine issued 4 times a year to all current members. Also check out the online-only
Kiting+
Home

Kite Talk Forum

Public Forum

Open Forum

Kite history event
Page
Start
Prev
1
Next
End
Kite history event
Saw this on Face Book and thought it was worth passing on here:
1st International Kite History Summit in North America
June 29th to July 2nd 2012
Baddeck, Victoria County, Nova Scotia, Canada
"Kites To Flight" festival will be a multi-day, multi-venue event in the Baddeck area that will profile the cultural dimension of kiting and provide an expanded appreciation for the role of the kite in the work of Alexander Graham Bell and the Baddeck community's role in that development.
Well known international kite enthusiasts and historians will share their expertise in talks and demonstrations highlighting the international impact of kites as prototype aircraft, scientific tools and as a fun activity for anyone.
The festival is also intended as a hands-on event in which participants can build and fly their own kites.
This community event will engage the public in celebrating the Baddeck area's unique place in the world history of kites.
The festival/summit is a joint partnership between the Baddeck & Area Tourist Association and the KiteMuseum.com(Canada), in cooperation with the Alexander Graham Bell Museum.
We are very pleased to have some of the world's leading authorities on kites to flight - Paul Chapman of England, Jan Westerink from the Netherlands, Ulli Draheim of Germany, Canada's own Bob White, and from the USA Thom Shanken, along with Tom Crouch of the Smithsonian Institute, and George Paisiovich of KiteMuseum.com.

Any kite fliers from outside the Baddeck region who may wish to join us are encouraged to contact George Paisiovich at george@kitemuseum.com for further information.
Time to Fly!
Barbara Meyer
AKA past president
barbarameyer
Administrator has disabled public posting. Please login or register in order to proceed.
Page
Start
Prev
1
Next
End
There are 0 guests and 0 other users also viewing this topic
Board Stats

Total Topics:

1576

Total Polls:

11

Total Posts:

7358

Posts this week:

6
User Info

Total Users:

4315

Newest User:

Members Online:

8

Guests Online:

4549
Powered by Agora Pro 4
© Copyright 2007 - 2014 jVitals! All rights reserved.