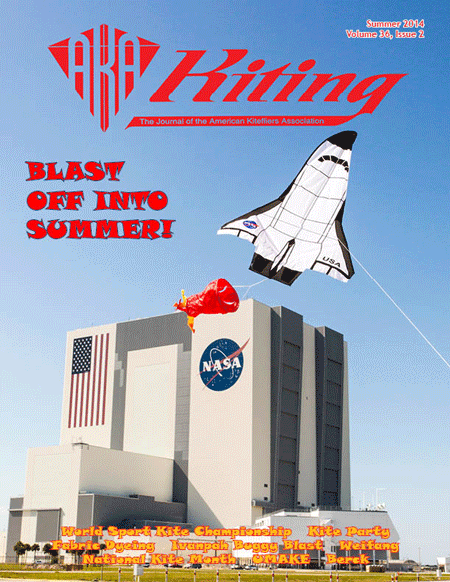 Kiting is a beautiful full-color magazine issued 4 times a year to all current members. Also check out the online-only
Kiting+
Home

Kite Talk Forum

Local Regions

Region 10

Benefit Sunday, Nov. 14, at the World Kite Museum
» Benefit Sunday, Nov. 14, at the World...
Page
Start
Prev
1
Next
End
Benefit Sunday, Nov. 14, at the World Kite Museum
Benefit Sunday, Nov. 14, at the World Kite Museum
Boogie over to the Kite Museum for a fine ragtime

LONG BEACH, Wash. - Bob Milne, world-renowned ragtime and boogie-woogie pianist, makes a benefit appearance Sunday, Nov. 14, at the World Kite Museum. The concert will benefit the education programs of the museum. Tickets cost $35 per person or $50 for two people and include a tour of the museum's exhibits. The doors open at 1 p.m. and the concert begins at 2 p.m. Light refreshments will be available.
A special museum exhibit for this concert is "Meet Me In St. Louis: The First Kite Competition in the U.S.," which has a tie-in to the kind of music Milne plays. Competing in St. Louis at the Louisiana Purchase Exposition (aka the St. Louis World's Fair) were Alexander Graham Bell, who invented the tetrahedron kite that is available for visitors' experiments; B.F.S. Baden-Powell, who designed the kites that raised the antenna so that Guglielmo Marconi could send the first wireless radio message across the Atlantic Ocean; and Silas Conyne, who won the height record at St. Louis with his half box kite and half diamond kite.
Music flourished at this same World's Fair in 1904 in St. Louis. Milne mentions such songs as "Meet Me In St. Louis," Scott Joplin's "The Cascade Rag," "The Saint Louis Tickle" and another piece named the "St. Louis Rag."
Milne's talent, humor and highly energetic playing style have captivated audiences around the world. His concerts showcase the heart and soul of American music as well as the history and talent of musicians and composers who, like himself, learned by listening and doing. Milne has recorded 10 collections of solo rags, blues and boogies, as well as folk and traditional tunes. He is author of "The Journeyman Piano Player," a collection of humorous anecdotes taken from his early years as a working musician.
Milne's piano experience began during a period when he played French horn with the Baltimore Symphony and joined his fellow musicians to "ham it up" in a local saloon after practice. He didn't carry a horn around, so he found himself at the piano. He developed a highly energetic piano style, adding early ragtime pieces. "The audience definitely gets their money's worth, listening to one man who sounds more like two or three pianists," noted a recent review.
Milne's research into this all-American style of music and his knowledge of the progression of its changes made him a major part of the "American Music Project" in the Library of Congress's ragtime and boogie-woogie studies. The show includes toe tapping music, great information and laughs.
Tickets for the benefit concert are available at the World Kite Museum, 303 Sid Snyder Drive. Visit or call the museum at (360) 642-4020 or e-mail info@worldkitemuseum.com

http://www.coastweekend.com/arts/articl … 002e0.html
toddlittle
Administrator has disabled public posting. Please login or register in order to proceed.
Page
Start
Prev
1
Next
End
» Benefit Sunday, Nov. 14, at the World...
There are 0 guests and 0 other users also viewing this topic
Board Stats

Total Topics:

1576

Total Polls:

11

Total Posts:

7360

Posts today:

2
User Info

Total Users:

4317

Newest User:

Members Online:

8

Guests Online:

4634
Powered by Agora Pro 4
© Copyright 2007 - 2014 jVitals! All rights reserved.