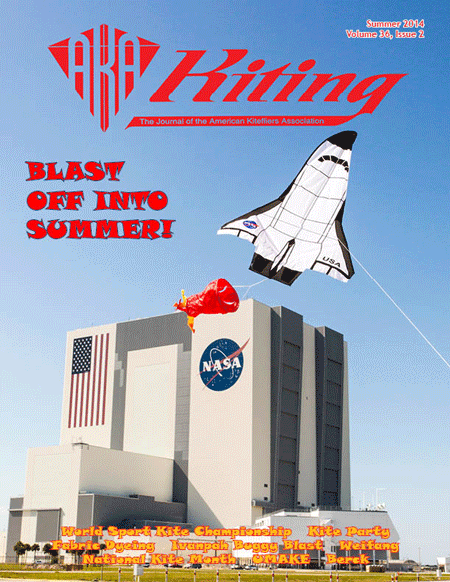 Kiting is a beautiful full-color magazine issued 4 times a year to all current members. Also check out the online-only
Kiting+
Home

Kite Talk Forum

Public Forum

Open Forum

Kiting Magazine Article
» Kiting Magazine Article
Re: Kiting Magazine Article
jaredhaworth wrote:

Kitelife wrote:

Next issue, maybe it'll be about how quad mega teams take up too much field space and demo time

This is by far the truest thing I've ever read on this forum!

I'll second this position.

Shamrocky
Shamrocky
Administrator has disabled public posting. Please login or register in order to proceed.
Re: Kiting Magazine Article
OK I'm having a hard time finding the "debatable" in this issues debatable. I think I agree with both perspectives. Is that allowed?
When it comes to kite flying I'm way over on the safe side of the debate. I'm a beach flier. Most of the time I'm alone. I single hand everything. Where I fly I have access to some nice sturdy anchors and occasionally I use sand anchors. I'll call this kind of flying "recreational." I seldom, mostly never, fly over people on the beach. If someone puts their stuff under my kite. I'll move the kite. That's how paranoid I am about that sort of thing. If it's too crowded I just don't fly. If I have to go to the restroom and people are around I will more than likely pull the kite down. Not always, if the beach is vacant and I'm comfortable with my anchor I might leave the kite up long enough to do what I have to do. I guess this type of flying is reflective of the left side of the page.
Now on the other hand, if I am at a kiting event I may well anchor and not be so attentive. At this type of event I am usually not alone and either folks with me or others close at hand are quite experienced. I guess you could say that we share the responsibility for safety with everyone looking out for everyone else. I'm fairly comfortable walking around looking at stuff or spending some time socializing when I know others are keeping track of things. Before I leave my kites unattended I'll more than likely "notify" a fellow kite flier that I'm leaving for a while. I think it a simple courtesy to ask "will you watch my kites for a while" & that way we don't things for granted & both walk away. Even if I'm sure someone is watching I am constantly looking back to see what my kites are doing. I might add that at a kiting oriented event I think the spectators are more on the alert as well.
So as I said, I can see both sides of the debate and can only choose one over the other based on the circumstances.

Oldgoat
Administrator has disabled public posting. Please login or register in order to proceed.
» Kiting Magazine Article
There are 0 guests and 0 other users also viewing this topic
Board Stats

Total Topics:

1557

Total Polls:

11

Total Posts:

7293

Posts today:

4
User Info

Total Users:

4282

Newest User:

Members Online:

6

Guests Online:

4904
Powered by Agora Pro 4
© Copyright 2007 - 2014 jVitals! All rights reserved.