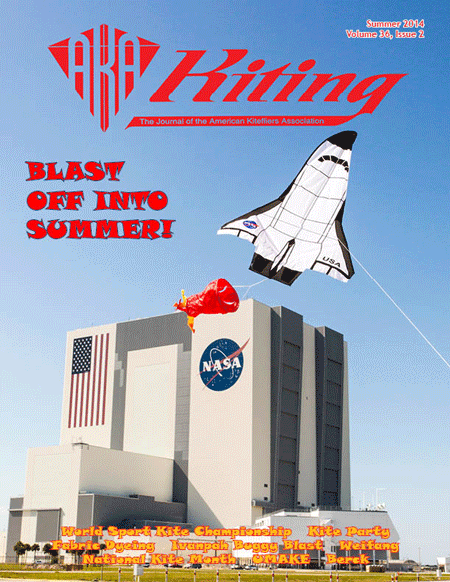 Kiting is a beautiful full-color magazine issued 4 times a year to all current members. Also check out the online-only
Kiting+
Home

Kite Talk Forum

Local Regions

Region 4

Is this $100. 00 yours ?
Page
Start
Prev
1
Next
End
Is this $100. 00 yours ?
If you get to work right now it could be.. You have until midnight Jan 15th to submit your NKM poster design. The winner will receive a $50.00 gift certificate at the aka store and $50.00 in cash. Ok, maybee a check from Mel but I assure you its almost the same thing. Its quite simple. If you can draw then grab a pad and let the creativity begin. If your more like me and you have trouble writing your own name so people can read it then how about selecting a photo our of your collection and adding the required text. For more information check out the article in Kiting. Don't forget to take a close look at Colin while your there. Who is Colin you ask? Some call him a dummy but he is smart enough to hang out in Marla's warm house and Model the AKA clothing line. He looks great in his red shirt dont you think ( look left ). So there you have it. Read the article, find the picture or draw then add the required text and drop me a note using the link at the KNM site if you need assistance. It could be yours.

Its interesting that you are Region 4. Thats exactally how many workshops you did last year along with 11 events for National Kite Month. Id like you to pick another number like the average age of your membership or something slightly bigger. Its really quite simple to add an event to the list on the NKM site. It can be as simple as a kite safety display on the wall at the local school or city library or hanging a few kites to doing a full blown festival with thousands attending. You can start small and work up. Ps, The library staff would love to hear from you now so that they dont have to figure out a theme for APRIL.. Plan ahead.... And hosting a huge festival is great but we also like to see when the local clubs have the media list a kite day at the park and you do your club fun fly with you neighbors joining you for a picnic lunch and maybee even bringing a kite of their own. ANYTHING that promotes kiting... I should say in a positive way, is an event in my book. Start planning and make the contacts to put it together. Helping the Brownies make kites is more fun than you can imagine. The smiles are worth every min of prep time. Most of all if you need help first check out the NKM site then if that still leaves you with a question or two drop me a note using the link on the NKM site.
Edited by: Capt_Richard - 05-Jan-2011 20:15:21
Capt_Richard

Home
Administrator has disabled public posting. Please login or register in order to proceed.
Re: Is this $100. 00 yours ?
Just 12 months too late... I saw the invitation to win $100 and jumped. Well, shuffled really...
Linda Sanders - RD13, Australia
less talk... more fly...
kitelady
Administrator has disabled public posting. Please login or register in order to proceed.
Page
Start
Prev
1
Next
End
There are 0 guests and 0 other users also viewing this topic
Board Stats

Total Topics:

1576

Total Polls:

11

Total Posts:

7358

Posts this week:

6
User Info

Total Users:

4315

Newest User:

Members Online:

10

Guests Online:

6795
Powered by Agora Pro 4
© Copyright 2007 - 2014 jVitals! All rights reserved.