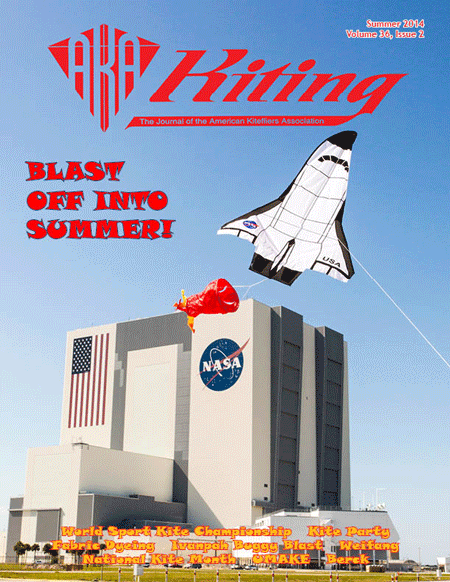 Kiting is a beautiful full-color magazine issued 4 times a year to all current members. Also check out the online-only
Kiting+
Home

Kite Talk Forum

Local Regions

Region 12

I bet you can double last years numbers
» I bet you can double last years numbers
Page
Start
Prev
1
Next
End
I bet you can double last years numbers
I bet you can double last years numbers
Last year the NKM total was zero workshops and 1 event. Of course alot more was going on in the region but it did not get listed on the National Kite Month site. I have a feeling that this year it will be different. You have the opportunity to have the largest percentage increase of all the regions in the Association. I am counting on you to make it happen. So what does that mean in simple english? An event is ANYTHING that spotlights kiting in a positive way. From dropping by your local library next week and getting on the list to provide the display for April to hosting a festival. Doing a library display is easy. You print a copy of the poster that we will talk about in a min and a few kite pictures and thats a good start. Print a copy of Professor kite from the AKA or NKM site and you have a great display on kite safety and showing how much fun it is to fly and most of all the library staff does not have to think of a theme for April. If you have a few intereseting looking kites you might be able to hand a few from the celing to brighten the place up. I will warn you that several of the Librarys that I do each year beg to keep them all summer and not just for Aprils celebration. I even have one that has had a few hanging for several years now. At least I know where my kites are. For information on workshops check out the NKM site and gather up the kids. The smiles on the kids faces when they create thier masterpiece is worth the short prep time to gather the suppies. Some can be as simple a copy paper folded with a straw taped in as a spar. Need more excitement. Have the local paper take a picture of you and your fellow flyers getting a proclamation from the local leader. Then in the article or caption under the paper invite the public to join your group for a picnic in the park and kite demo. Nothing fancy, just your average fun fly with lots more onlookers. After checking the NKM site if you still have questions drop me a note using the link provided.

One last thing.. I have $100.00 that I will give away the end of the month. Actually thats $50.00 in cash and $50.00 at the AKA store. You can get all kids of great AKA clothing and have some cash to put a deposit on that kite you did not get for Christmas. If you can draw then you are ahead of the game. You can also use a photo and then add the required text and send it in by January 15 and wait for the announcement. For all the required details you can check out the article in Kiting and if you still have a question drop me a note using the address provided. Hurry up , time is wasting away and in the case of the Poster the deadline is fast approaching.
Edited by: Capt_Richard - 05-Jan-2011 20:35:36
Capt_Richard

Home
Administrator has disabled public posting. Please login or register in order to proceed.
Page
Start
Prev
1
Next
End
» I bet you can double last years numbers
There are 0 guests and 0 other users also viewing this topic
Board Stats

Total Topics:

1576

Total Polls:

11

Total Posts:

7358

Posts this week:

6
User Info

Total Users:

4315

Newest User:

Members Online:

8

Guests Online:

4758
Powered by Agora Pro 4
© Copyright 2007 - 2014 jVitals! All rights reserved.