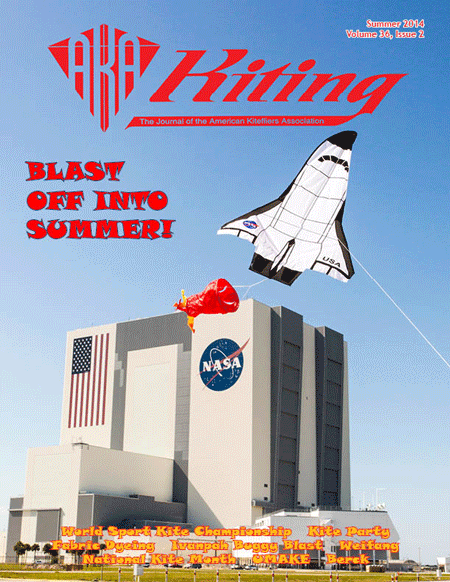 Kiting is a beautiful full-color magazine issued 4 times a year to all current members. Also check out the online-only
Kiting+
Home

Kite Talk Forum

Public Forum

Open Forum

Tal Streeter
Page
Start
Prev
1
Next
End
Tal Streeter
Greetings -

Tal Streeter, kiteflier and artist, sculptor, and life member of the AKA suffered a major stroke three months ago and is recovering at a nursing facility in Kansas. He is at:

Tal Streeter, patient
c/o Stoneybrook Nursing Home
Rapid Recovery Unit
2025 Little Kitten Avenue
Manhattan, KS 66503-7545

It would be great to have friends and kiters send PHOTOS and notes to share with him what's going on in the world of kiting…

For just a sample of who Tal is, go to:
http://www.windart.subvision.net/aca-wi … /index.htm
Mel at AKA
AKA-HQ
PO Box 22365, Portland, OR 97269
609-755-5483
melhickman

Executive Director
Administrator has disabled public posting. Please login or register in order to proceed.
Re: Tal Streeter
Hello Kiters

I wanted you all to know where Tal Streeter is living these days!

Yes Pop suffered a serious stroke in February 2011 but has recovered somewhat I'm happy to report! It happened in his home town of Manhattan, Kansas . My mother and I moved him back to his home in Santa Fe, New Mexico in August of 2011.

He is in a special residence in downtown Santa Fe : El Castillo and yes I am sure would greatly appreciate a note from his friends in the kite world!

Tal Streeter
El Castillo
Rm 201
250 East Alameda
Santa Fe, New Mexico
87505

He is working on new sculpture with his collaborator Bruce George and David Wagner is working with Tal on a foundation called "Friends of the Sky " which we hope will get off the ground in the near future!

All the best,
Lissa Streeter
Administrator has disabled public posting. Please login or register in order to proceed.
Re: Tal Streeter
.

Dream of Flight Museum and Library that David Wagner has designed and built in Santa Fe, New Mexico is almost completed (applying the stucco exterior this week) It will soon be ready to house all of Tal's archives (Jalbert et all), kite collections and sky related materials ,as well as Tal's sculpture. Oh and there will also be Davids sky/flight collections and library. It's a lovely building and we hope it will be an active venue for all things flight !

Tal is in relatively good shape, conversant and interested in hearing from his fellow friends of the sky!

Tal's Butterfly Blog is back up and running on blogger !

I'll be doing my best to keep everything up to date info wise on it. This blog isn't only on sky related subjects but hopefully there will be something from time to time about his rather peculiar injury to the right parietal lobe and how we, his family, deal with that.

Pop continues to have regular discussions with scientists living at El Castillo about wings and flight and this is certainly his main interest ! He visits the construction site for Dream of Flight Museum and Library regularly (For those of you near Santa Fe, beautiful modern building about a mile or so beyond "Museum Hill" on Old Santa Fe Trail. He can't read but can write with someone taking dictation for him. A whole lot better than it sounds actually. My Mom and I are doing our best to make life meaningful and comfortable for him.

I haven't been able to open Pop's email account so am missing addresses of so many of you that I know he would like to keep in touch with! I decided a blog, out there in the open was perhaps the best way to stay contact with you all!

Voila! Best from the Streeter Family to all of you flyers!


Lissa, his daughter
Edited by: Lissa Streeter - 01-Oct-2013 06:15:57
Administrator has disabled public posting. Please login or register in order to proceed.
Page
Start
Prev
1
Next
End
There are 0 guests and 0 other users also viewing this topic
Board Stats

Total Topics:

1576

Total Polls:

11

Total Posts:

7360

Posts today:

2
User Info

Total Users:

4317

Newest User:

Members Online:

1

Guests Online:

7110
Powered by Agora Pro 4
© Copyright 2007 - 2014 jVitals! All rights reserved.