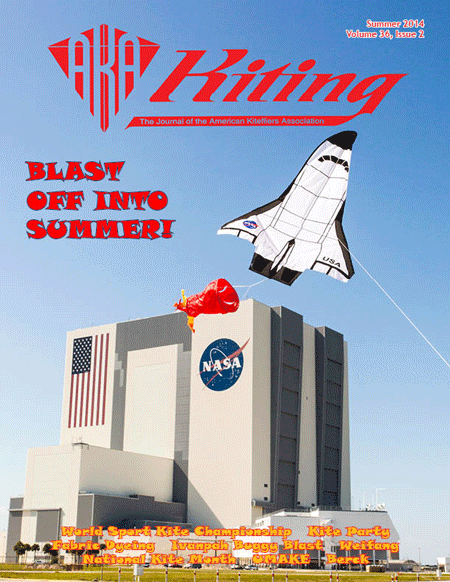 Kiting is a beautiful full-color magazine issued 4 times a year to all current members. Also check out the online-only
Kiting+
Home

Kite Talk Forum

Local Regions

Region 8

Region 8 Kite Events for April 2012, National Kite Month, Etc
» Region 8
» Region 8 Kite Events for April 2012,...
Page
Start
Prev
1
Next
End
Region 8 Kite Events for April 2012, National Kite Month, Etc
Region 8 Kite Events for April 2012, National Kite Month, Etc
Hello Kiters!
I had intended to send this update at the first of April, but the AKA website has been experiencing some major problems, and was not accessable. It had something to do with the AKA's website server host.
Here is the list of April 2012 Region 8 Kite Events. You can also view the events at the Region 8 Kite Events website, at: http://TKOGunn1.tripod.com/kitecalender.htm


Get out and enjoy some of our region's kite events. And remember too, that this is National Kite Month! http://www.nationalkitemonth.org/main/index.php

Don't forget that this year's AKA Convention and Grand Nationals will be held in our Region, so lets all make plans to attend and make a good showing!. The Convention will be October 1 thru 6, 2012 in Enid, Oklahoma. Registration information will be in the Summer issue of AKA Kiting magazine. The front/home page of the AKA website also has some info: http://www.aka.kite.org

I hope to see y'all at some of this year's festivals!

BTW- This year's Region 8 Director position will be up for election again, so if you are interested in serving as AKA Region 8 Director, your name will need to be submitted to the elections committee before the election ballots are sent out this summer. I only volunteered to serve as RD8 for 2012, and do not currently have any plans to place my name on this year's election ballot. Please consider serving as Region 8 Director. If interested, you can e-mail me your name and contact info and I will forward your info to the AKA elections committee. My addresses: RD8@aka.kite.org or
T-Gunn@msn.com

Troy Gunn - AKA Region 8 Director 2012

___________________________________________________________________________________

* Apr. 12-15--40th Annual Portland WindFest

(FF/DM)

Portland, TX

C: Portland Chamber of Commerce

361-643-2475 chamber@portlandtx.org




* Apr.13-14--Cloud Buster Kite Festival (7th Annual)

(CP/FF/KM/DM)

Perrin, TX
(at Mitchell Resort and RV Park...2730 FM 2210 E. Perrin, TX 76486...Turn East at the yellow blinking light on Hwy 281)

C: Doris Reed & Kevin McGrath



940-798-4615
mitchellrvpk@yahoo.com

http://www.mitchellresortandrvpark.com

Event Info:
Fun for all ages! Fun flying, sport kite Demonstrations, single line kite competitions with whimsical trophys to the winners, Food Vendors, Live Music, Kids Kite Building.

AKA card carrying members get free access to Mitchell Resort & RV Park's kite fest activitiesl




* Apr.14--Alta Mira Kite Festival

(FF/KM)

Albuquerque, NM
(Balloon Fiesta Park in NE Albuquerque)

C: Nancy Hunt



(505) 366-2114
NHunt@AltaMiraNM.org

http://www.altamiranm.org/Special%20Events




* Apr. 14--Helping House 2nd Annual Kite Festival

(FF/DM)

Nacogdoches, TX
(at AL Mangham Jr. Regional Airport in Nacogdoches)

C: Amanda Johnson



936-371-1536

http://www.the-helping-house.org

Event Info:
We will begin setup at 8:00 on that morning. Big Mikes Kites, Dallas Area Kite Organization, WhataKite will be there. Food, Jump houses, snow cones, old cars, airplanes, bol races, large small kite field, large ground display pieces. to many vendors to mention. A beautiful flying venue. Last year was a huge success, with lots of community participation. In case of rain, the festival rain date is April 21st.




* Apr. 14- The 3rd Annual Benton Kite Festival

(FF/DM/KM)

Benton, AR
(Watts Field, the old Saline County Airport, by the Saline County Fairgrounds....Exit 116 on I-30)

C: Joy Buchanan (501)776-3167


YCatsaline09@aol.com

Information:
The city of Benton did not buget funds for a kite festival this year, but due to an amazingly quick, thorough, and successful grass roots effort by Joy Buchanan, the Kite Festival is back on!

Benton is just south of Little Rock. Flying will be at the old Saline county airport. Lots of room. They will be giving away kites. there will be vendors of all types. Come out and fly a kite and have a some good old fashioned family fun!

For more info, click here: http://www.mysaline.com/events/kite-fest




* Apr. 14- Reach for the Skies Kite Fest

(FF/DM/KM)

Sherman, TX
(west of FM 1417 at Pecan Grove West Park.....3200 Canon Creek Drive)

C: Keith at (903) 892-7344


Keith at: keithb@ci.sherman.tx.us

Description:
Concessions, kite vendor sales from Rainbows 4 Sail Kites, 7 kite contest categories with prizes, live music, acrobat martial arts & dance exhibitions, face painting, and Ricco the Clown, and of course free kite flying fun for everyone! Sponsored by the Sherman Parks & Recreation.






* Apr. 15--Cedar Hill Family Kite Fly

(FF/DM)

Cedar Hill, TX (Location: Valley Ridge Park at 2540 Park Ridge Drive)

C: Gloria Harmon (Rainbows 4 Sail)

972-938-3954
kitemobile2@sbcglobal.net

kite flyers of all interest are welcome to come fly their kites, as there is plenty of room for kites of all types to come fly and have fun! Everyone is welcome!




* Apr. 21 - 3rd Annual Lubbock Kite Festival

(FF/DM/KM)

Lubbock, TX
(McAlister Park, Brownfield Highway & Martha Sharp Freeway)

C: Aimee Ruel

Cell: 806-767-3796

arue@mylubbock.us

Activities:
Sport kite demonstrations by Troy Gunn and TKO Sport Kite Team, Large Single Line Kites, open public kite flying, kids candy drops from kites, kite buggy and kite board demos, disc golf, rock wall spider climber, jumper tent, etc...




* Apr. 21 - 1st Annual Friends of the Library KiteFest

(FF/DM/KM)

Mt. Vernon, TX
(Franklin County Airport 501 Airport Road (CR NW 1030) (Zip75457)

C: Betty Crane

903-537-2342

bettyruth100@hotmail.com




* Apr. 21--Devine Lake Park Kite Fest (5th annual)

(KM/FF/DM)

Leander, TX
(Devine Lake Park is located in the Northcreek neighborhood in Leander, near the intersection of 2243 and Bagdad, which is about 2 miles west of 2243 and 183)



C: Christian Moore

512-528-9909

cmoore@ci.leander.tx.us

Here's a Google map showing the general area: http://maps.google.com/maps?f=q&sou … =30.580366,-97.880545&spn=0.027267,0.029697&t=h&z=15




* Apr. 21 - Salado Earthday & Kite Festival

(FF/DM/KM)

Salado, TX
(Pace Park Road)

C: Stephanie Gaines

(817) 360-2720

gaines.stef@yahoo.com

Activities:
Join us for a fun filled day. Big Kites, sport kite demos, candy drops, kite contest, fun flying, lot's of vendors at the festival and all over town!




* Apr. 28--9th Annual Cannon AFB Kite Karnival

(FF/KM/DM)

Clovis, NM
(at Doc Stewart Park on the corner of 60/84 and 311 Ranchvale Road)

C: Paul Hopkins

575-784-6381 everett.hopkins@cannon.af.mil

Planned event activities: - fun flying, kid's kite building, candy drops, demonstrations, food, entertainment, etc...




* Apr. 29--Go Fly A Kite Festival

(FF/KM/DM)

Derby, KS
(High Park, Derby, KS)

C: Jennifer Nixon

316-529-2677 jennifer@derbyrec.com

Planned event activities: - fun flying, kid's kite building, candy drops, demonstrations, etc...Everyone is welcome to come fly a kite!
TGunn
Administrator has disabled public posting. Please login or register in order to proceed.
Page
Start
Prev
1
Next
End
» Region 8
» Region 8 Kite Events for April 2012,...
There are 0 guests and 0 other users also viewing this topic
Board Stats

Total Topics:

1576

Total Polls:

11

Total Posts:

7358

Posts this week:

6
User Info

Total Users:

4315

Newest User:

Members Online:

7

Guests Online:

5838
Powered by Agora Pro 4
© Copyright 2007 - 2014 jVitals! All rights reserved.