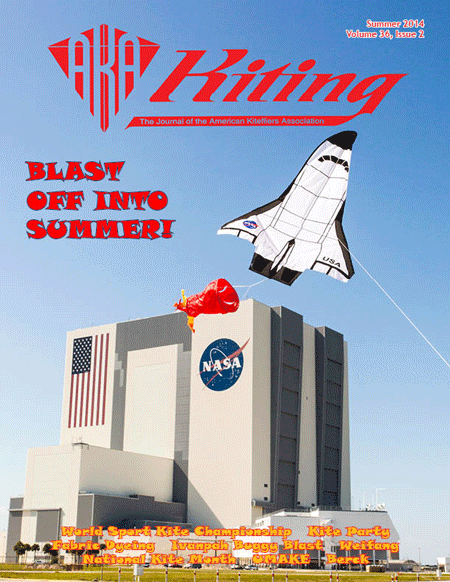 Kiting is a beautiful full-color magazine issued 4 times a year to all current members. Also check out the online-only
Kiting+
Home

Kite Talk Forum

Public Forum

National Kite Month

NKM Poster Contest 2013
» NKM Poster Contest 2013
Page
Start
Prev
1
Next
End
NKM Poster Contest 2013
The AKA and the Kite Trade Association will once again hold a Poster Contest for use during Kite Month 2013. This year there will be $200 in prizes. The rules for this contest are:

Poster must contain AKA, KTAI and NKM logos. (These can be copied from the National Kite Month website www.nationalkitemonth.org.)

Poster should have spaces at the bottom for an organizer to write in:


Event Name _______________
Date & Time _______________
Location __________________
Contact ___________________
Sponsor __________________
Poster elements should be appropriate for 8.5x11 inches.
Color is preferred.
Format should be .doc or .jpg.
Entries must be original art work/photos of the entrant.
All submissions will become property of the AKA.
Entries must be submitted by January 24, 2013 to Admin@NationalKiteMonth.org.
There will be two categories judged, adults and children. The prize for the winning poster in each category will be $100 in cash. For questions email Admin@NationalKiteMonth.org. For further information go to the National Kite Month topic on the AKA Public Forum,
http://aka.kite.org/...onal-kite-month.
Mike Mosman
Director at Large
National Kite Month Committee
Administrator has disabled public posting. Please login or register in order to proceed.
Re: NKM Poster Contest 2013
The National Kite Month Poster Contest winning poster has been posted on the NKM website. Congratulations to Susana Rubio of Norman, OK. For her effort she will receive the first place $100 prize.

This year there was also a prize for the best poster by a child. Unfortunately, no children's entries were received, so the children's prize was divided and given to two runners up, John Chilese and Paul Barrow.

All three posters can be seen in the Spring 2013 issue of Kiting Magazine. A special thanks to our poster artists for some very nice submissions.

Mike Mosman
Administrator has disabled public posting. Please login or register in order to proceed.
Page
Start
Prev
1
Next
End
» NKM Poster Contest 2013
There are 0 guests and 0 other users also viewing this topic
Board Stats

Total Topics:

1576

Total Polls:

11

Total Posts:

7359

Posts today:

1
User Info

Total Users:

4317

Newest User:

Members Online:

10

Guests Online:

7694
Powered by Agora Pro 4
© Copyright 2007 - 2014 jVitals! All rights reserved.