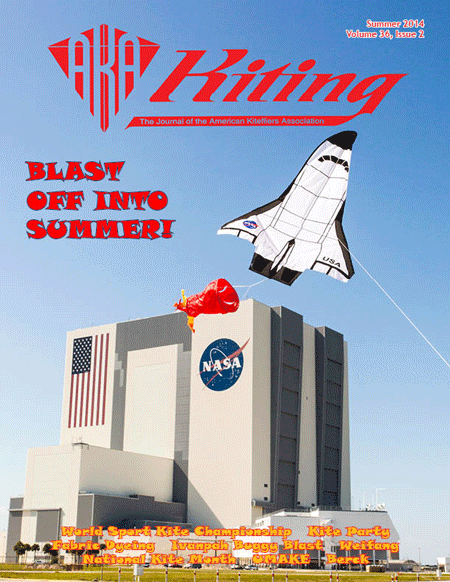 Kiting is a beautiful full-color magazine issued 4 times a year to all current members. Also check out the online-only
Kiting+
Home

Kite Talk Forum

Local Regions

Region 8

FREE KITE SHIRTS
Page
Start
Prev
1
Next
End
FREE KITE SHIRTS
You only have a few days to claim your $50.00 AKA store certificate and $50.00 in cash. Go thru your favorite kite pictures and pick the one that makes you the most excited about flying. Add the required text and send it in to see if you come out on top. The Kiting Magazine article on the NKM Poster contest gives you more details or you can use the site link to get my help. The deadline is Jan 15 so drop everything and get to it. PS> If your really creative you can draw your own picture.

While im on the subject In years past we kicked.......donkey.., oops, we did very well in the events listings for NKM activities. I would like to apoligise for my lack of participation last year. The rest of the region was able to pull out a third place with a total of 4 workshops and 19 events. This year I plan to have out region double the totals for the entire program last year and then some. If each of you approaches the local library right now they would probably put you on the list to hang kites or put up a display on thier wall during April. Just think of how much the library staff will appreciate taking a break that month. In the past I did about 20 but this year I have to start early. In fact I have Three right now since they liked the kites brightening the area up so much they did not want to take them down.
See, we are already in first place and I intend to keep that lead. Donna and Jeff had a great time doing workshops and you dont want to be left out. Its really not as complicated as it seems at first. Just ask them.. Or better yet go to the NKM site and look around for inspiration. While you are there dont forget to download the proclamation packet and present it to your local leaders. Its great to have it in the club scrapbook and you could win a prize if yours is picked in the random drawing. Its simple enought that I picked up 14 a few years ago. Lots of little cities around the area that love family activities.
Edited by: Capt_Richard - 05-Jan-2011 19:42:24
Administrator has disabled public posting. Please login or register in order to proceed.
Re: FREE KITE SHIRTS
Just wanted to clarify, it was actually SPIKE, South Padre Island Kite Enthusiasts, that had fun doing the workshops and events for NKM. The group worked hard. Jeff and I could never do those events without our club.

Donna
donnamccown
Administrator has disabled public posting. Please login or register in order to proceed.
Re: FREE KITE SHIRTS
And I bet the kids still think about the day they made kites with the big kite kids.... Nothing like the smiles you get when they are having a great time. I remember some pictures you posted just after one of the events. I also have a theory that hanging out with the younger folks keeps you feeling younger. That is untill the next morning after you chased the six year olds around.
Administrator has disabled public posting. Please login or register in order to proceed.
Page
Start
Prev
1
Next
End
There are 0 guests and 0 other users also viewing this topic
Board Stats

Total Topics:

1576

Total Polls:

11

Total Posts:

7358

Posts this week:

6
User Info

Total Users:

4315

Newest User:

Members Online:

3

Guests Online:

6479
Powered by Agora Pro 4
© Copyright 2007 - 2014 jVitals! All rights reserved.