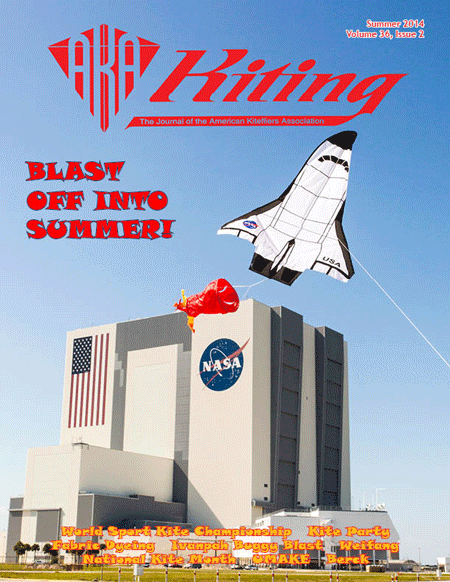 Kiting is a beautiful full-color magazine issued 4 times a year to all current members. Also check out the online-only
Kiting+
Home

Kite Talk Forum

Public Forum

Open Forum

KITE ANCHORS AND VERTICAL LIFT
» KITE ANCHORS AND VERTICAL LIFT
KITE ANCHORS AND VERTICAL LIFT
Re: KITE ANCHORS AND VERTICAL LIFT
For ground anchors, "easy" and "effective" are a compromise. To get a really effective anchor, you will need to expend some serious effort to get it seated into the ground. Dog stakes (usually a triangle handle with a spiral section that gets screwed into the ground) you generally need turf or some kind of coherent soil (clayey) to get a good hold. Sand is no good, and really hard soil is either hard to drill into, or drilling in breaks up the soil and reduces the holding.

Simple stakes will work if the soil is good. To get a better hold in loose soil (especially when the pull is close to horizontal) use two stakes: drive a long stake half way in; tie the kite line close to the ground. Then drive a second stake behind it by several feet: tie off the top of the long stake to the second stake close to the ground. This will help avoid having the primary stake get pulled through the ground until it pulls straight out.

Sheer weight is good. Tying off to a trailer hitch works well for pulls up to 1000# or so. (I have seen the front end of a fire engine lifted off the ground by a large kite -- probably took over 10,000# to do that.)

Earth anchors of the skewed disk type have great pull-out ratings but require a lot of effort to get turned into the ground (and removed later).

I have seen another type of anchor that gets driven straight into the ground with an installing tool and a sledge hammer. Then when it is pulled, the anchor tips and goes crossways under ground. Hard to remove, though, unless you also bury a retrieval cable alongside the anchor cable. (Just checked - these are available from American Earth Anchor.)
------------------
For line strength, I have had 500# Kevlar lines broken in a hand-held situation. It is the sudden jerks (since I only weigh about half that) that break lines which are otherwise in good condition. (I was flying a 10' Flexi on twin 500# lines and leaning back at about 45 degrees when one of the lines broke in the middle - away from any knot, which suggests a flaw in the line because knots are ALWAYS weaker.) OTOH line strength numbers are all over the place: is it Working Strength? Breaking Strength? Test? Who knows what they mean? Who did the testing? If it's Working Strength, the breaking strength may be 2, 5, or 20 times larger, depending on how the Working Strength was determined. If it is tournament fishing line, it is guaranteed to break AT the test strength (to provide an even playing field for such-and-such a fish caught on such-and-such a line strength).
---------------
For checking the pull, the technical name for the device is a Hanging Scale. Big ones are expensive (thou$and$) and very heavy. A small spring scale with two hooks would work for up to a couple hundred pounds. Running the line over a pulley and hanging weights on it would also work.

A word of warning: hooking heavy things to a kite line under high tension is dangerous. If anything breaks (and it will) heavy things go flying at very high speeds. Any line with ANY stretch will accelerate an object for as long as it takes for the stretch to relieve itself. I have heard a 5# cleat break the sound barrier (over 700 mph) when a tow line pulled it loose from a boat under tow; it went half way through a boat transom which was made of 3"-thick plywood. DO NOT STAND IN LINE WITH ANY COMBINATION OF LINES UNDER TENSION AND OBJECTS WITH ANY SIGNIFICANT MASS! (And do not let anyone else do so either.) Specifically, don't stand by a line which is attached to any kind of ground anchor. It it pulls out or breaks, the anchor becomes a missile. I had an ordinary tent stake with a nylon (stretchy) guy line fly over 200 feet when a strong wind gust got under a canopy. Fortunately it was "aimed" up in the air when it let loose; by the time it hit the ground, it was merely ballistic (a falling plastic tent stake).
Administrator has disabled public posting. Please login or register in order to proceed.
Re: KITE ANCHORS AND VERTICAL LIFT
Phil:

I just ordered some 18" screw down anchors from American Earth Anchors, and mentioned the referral from Kiting Magazine. They seemed pleased, and were very helpful. Thanks for the tip !

Charlie
charlesfostercox
Administrator has disabled public posting. Please login or register in order to proceed.
Re: KITE ANCHORS AND VERTICAL LIFT
The screw anchors work well if you have a heavy duty drill/driver. You jsut leanon them and drive them in and the eay part is when you unscrew them to remove the anchor.

I have had one failue using the cast aluminum screws. We had the kite on a single screw anchor and the wind was gusting. The top of the ground was soft and 10 inches down it was very hard. The anchor was flexing in the gusts and then snapped in half. A 2nd anchor behind it would have prevented the problem and the loss of the expensive anchor.

As for the rebar suggestion I would advise against attaching your line directly to it. The edges are too rough and rusty in most cases. You also have to keep in mind that it will bend under load. I prefer galvanized pipe that has a larger surface area to prevent bowing. On Gombergs site he has a great section on anchors along with how to rig a deadman as a backup.
Administrator has disabled public posting. Please login or register in order to proceed.
Re: KITE ANCHORS AND VERTICAL LIFT
charlesfostercox wrote:


Re: KITE ANCHORS AND VERTICAL LIFT

Todd:

Attached (I hope) is a rough drawing for a simple anchor, using a 1" plywood base cut 18" square. Holes are drilled at a diagonal
pointing away from the center, and 18" rebar is hammered into the ground until level with the plywood. In the center is a 3/8" x 2" eye bolt reinforced wit
This design looks like a cross anchor used for mobile homes. Has anyone ever used one. If it keeps a Mob' from blowing away, it aught to keep a kite grounded. I am attaching a general picture. (I think)

Gordon
gordonsteele
Administrator has disabled public posting. Please login or register in order to proceed.
Re: KITE ANCHORS AND VERTICAL LIFT
Gordon,

The site I looked at says that Cross-Anchor is for anchoring in solid rock. You pre-drill at angles through the square guides and drive 36" rods into the rock. Presumably you first drill a short hole for the vertical shaft. I doubt if it would have much holding power in soil or sand.

Anyone else interested:

It looks to me from some of the sites with testing charts, that if you want 4725# pull out resistance (which seems to be some kind of standard in the mobile home industry for anchors) in loose sand, you are going to want one of the skewed-disk anchors with a 60" (3/4" dia) shaft and a 8" disk. If you want more, you will need to double up and provide some kind of equalizing bridle. It would probably take you 15 or 20 minutes of hard work to screw it into the sand, and a bit less time and easier work to remove it.

Lastly, you need some kind of release designed to let the line go free of the anchor if it does start to pull out of the sand. You don't want 15# of jagged steel flying down the beach at several hundred mph. Better to lose a kite than to kill someone.

This is just my quick and dirty web research. Before you hook a hard pulling kite to an anchor, do your own research and make up your own mind. The experts, like the Gombergs, will tell you that anchoring a BIG kite is a serious business and not to be taken lightly. I think most experts use heavy vehicles rather than try to ground anchor.
Administrator has disabled public posting. Please login or register in order to proceed.
Re: KITE ANCHORS AND VERTICAL LIFT
The plywood mount that you are referencing sounds like a home made version of the claw anchor that is sold to tie down planes on grass or dirt. The main idea is deep enough that it wont pull out and spread out ot share the load amoung several anchors. I normally go for the thickwall pipe that I get from work and a big hammer then a 2nd one behind to make sure the first one does not pull forward. After wiggling all day the front one comes out with a small amount of work and the back one is sometimes more than I want to mess with. I would love to find an old car bumper jack to use as a puller. ( 4x4 jacks are too big) I have a t-bar fence post puller that I can force to do the job.

As for measuring line pull you can get a small luggage scale for $10-30.00 and it should tell you what you want to know. Picking up 20 pounds is about the same as catching 5 pounds when it jerks as in pulling it off the counter and letting it fall tied to a line. That being said you will probably be surprised. The wind gust that about pulls you over may only be 40-50 pounds but since its unexpected it feels like 150. Of course most line streches which is a good thing so 150 at the top of the line is less than 100 on you end. Back to the scale. The one I have is a T-Handle with a hook to lift your suitcase. You could put a carabiner on the line with several wraps to lock it in and then put the hook on it and watch the readings. To take it one step further you can put a loop arond the T-handle and anchor it slightly shorter than the flying line. I would have the main line tied off incase you overload he scale and break it.

Th above statement is correct Lots of mumbers and it hard to know what they mean. Safe working load is a variable percentage of the failure load. The types of load also make a difference. The example is you wrap a string around a hande on each end and pull as hard as you can and nothing happens. Then put your hands together and jerk them apart and the string easily breaks. Its more or less the same force with a different way to apply it.

After all that.....I use the largest line the kite will lift as a good safety factor. ( slightly overstated) Using 500 # with a load leaves a small safety margin for that jerk in the line vers the 750# or even 1000#. Then again that being said I have some 500# in one brand thats less likely to break than onother brands 750#.

PS> Check you local Radio SHack to see if they still have a scale in stock. It was a Christmas item that may still be on the clearance table.
Administrator has disabled public posting. Please login or register in order to proceed.
» KITE ANCHORS AND VERTICAL LIFT
There are 0 guests and 0 other users also viewing this topic
Board Stats

Total Topics:

1576

Total Polls:

11

Total Posts:

7358

Posts this week:

6
User Info

Total Users:

4315

Newest User:

Members Online:

1

Guests Online:

7044
Powered by Agora Pro 4
© Copyright 2007 - 2014 jVitals! All rights reserved.