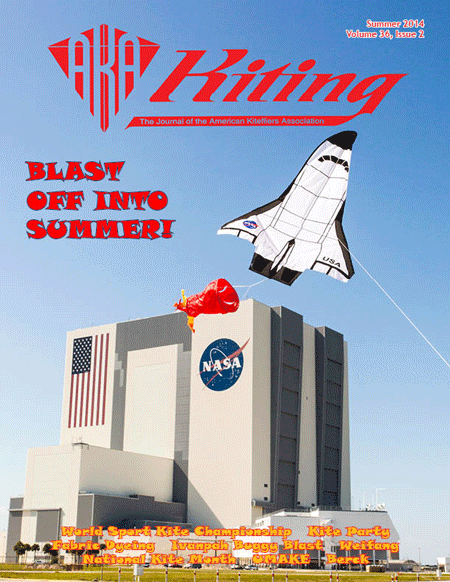 Kiting is a beautiful full-color magazine issued 4 times a year to all current members. Also check out the online-only
Kiting+
Home

Kite Talk Forum

Public Forum

Festival News

Worlds Best Kite Festival
» Worlds Best Kite Festival
Page
Start
Prev
1
Next
End
Worlds Best Kite Festival
Worlds Best Kite Festival
The KTAI membership has voted to recognise the South Padre Island Kite Fest the festival of the year for 2010.

The festival has been held for several years on the area known as the flats on the barrier island of South Padre near the Mexican border. Its location provides generally warm weather and gulf breezes for its early spring festival. The mood on the island is very laid back that time of year with a large number of winter residents excaping the harsh winters of the midwest. They are known a Snowbirds since they fly, travel south every winter. Among the large number of winter residents are quite afew AKA members who take part in the festival every year. Bill and Susie Doan do a great job along with lots of help from the local club and visiting kiters to put on a festival that entertains the winter guests and the locals.

The 2010 festival was well attended and the weather for 2011 was even better. The crowds and participation grows every year as the word gets out about the great festival that starts off the Kite year in a grand way.

If your in the area in the spring you need to put it on your list of things to do. Speaking of great festivals in Warm areas with great wind Galveston is one of the locations that has been submitted for the National Convention in 2012. Please let the board know of your desire to wear shorts while attending the convention with an ZERO chance of snow. With great gulf winds for the flyers and everything from Nasa to the Lone Star Flight Museum with its collection of old planes, and the Piramids of Moody Gardens the area offers pleanty of things to keep the entire family busy. Best of all due to the great weather all year long thier is no off season.
Capt_Richard

Home
Administrator has disabled public posting. Please login or register in order to proceed.
Page
Start
Prev
1
Next
End
» Worlds Best Kite Festival
There are 0 guests and 0 other users also viewing this topic
Board Stats

Total Topics:

1576

Total Polls:

11

Total Posts:

7358

Posts today:

2
User Info

Total Users:

4315

Newest User:

Members Online:

1

Guests Online:

6491
Powered by Agora Pro 4
© Copyright 2007 - 2014 jVitals! All rights reserved.