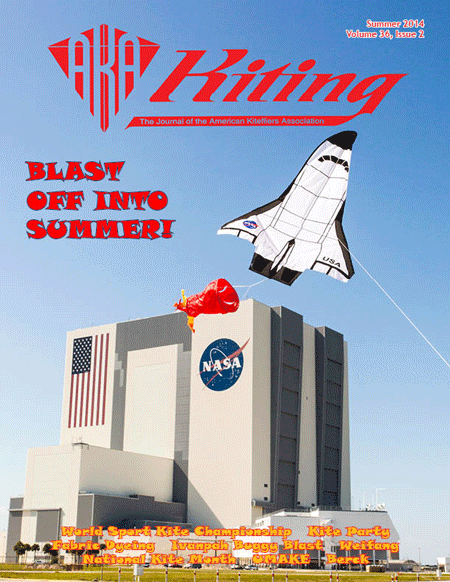 Kiting is a beautiful full-color magazine issued 4 times a year to all current members. Also check out the online-only
Kiting+
Home

Kite Talk Forum

Public Forum

Dual-Line Kites

Ever think about Dual Line Competition?
» Ever think about Dual Line Competition?
Page
Start
Prev
1
Next
End
Ever think about Dual Line Competition?
Ever think about Dual Line Competition?
The following is an e-mail I received from Marc Conklin. For anyone who has been curious about dual line competition.....read on.

The 7th annual Richmond-Washington Regional Sport Kite Championships (RWRSKC) is happening at Taylor Park in Ashland, VA on Saturday, September 10, 2011. For those of you not familiar with RWRSKC, it's one of the most important events on the AKA sport kite competition calendar. Why? Because it is one of the only events left that focus entirely on training new kite fliers to become sport kite competitors. RWRSKC follows the format I laid out in an article in this past winter's Kiting magazine, where new competitors are offered an hour of 1-on-1 flight training from a more experienced competitor, followed by open competition, followed by a duplicate of that open competition for the novices. In other words, the novice competitor gets 1 hour of private training, then gets to see their discipline flown by experienced competitors, then flies it themselves.

Novice-friendly competitions like RWRSKC are, in my humble (but accurate!) opinion, essential to the success and survival of sport kite competition. Over the past 7 years, RWRSKC has produced several new competitors, including some of those currently in the Masters class. Every year, there are 1 or 2 new competitors that come out of RWRSKC and go on to attend other EL and AKA events. For more information on RWRSKC, just go to the web site to get the full skinny.

Registering for RWRSKC 2011 is super-easy, the site has a quick and easy registration form to fill out, you can even pay your fees online (it's only $10 per disipline for open competitors, FREE for novices!). RWRSKC, while not an EL event, is an AKA sanctioned competition, which means that the points you earn there will count towards an invitation to the 2012 AKA Grand Nationals.
I'd like to encourage everyone to come out and see what RWRSKC is all about.
Come join us!
Thanks,
Marc A. Conklin
Commissioner
Eastern League Sport Kite Association
www.easternleague.net
Shamrocky
Administrator has disabled public posting. Please login or register in order to proceed.
Page
Start
Prev
1
Next
End
» Ever think about Dual Line Competition?
There are 0 guests and 0 other users also viewing this topic
Board Stats

Total Topics:

1576

Total Polls:

11

Total Posts:

7359

Posts today:

1
User Info

Total Users:

4317

Newest User:

Members Online:

11

Guests Online:

7337
Powered by Agora Pro 4
© Copyright 2007 - 2014 jVitals! All rights reserved.