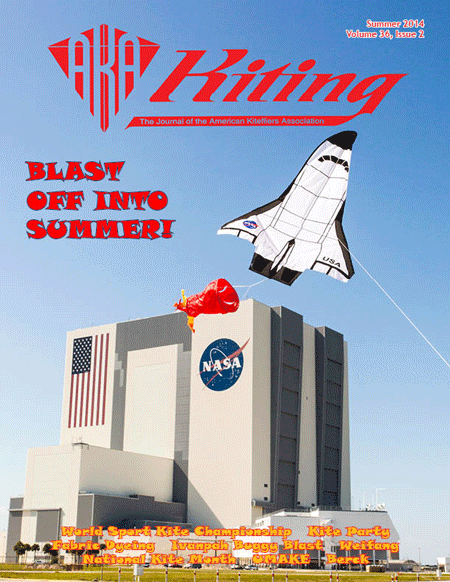 Kiting is a beautiful full-color magazine issued 4 times a year to all current members. Also check out the online-only
Kiting+
Home

Kite Talk Forum

Public Forum

Open Forum

Oregon State Parks and Beaches new rules & Fee Hikes!
» Oregon State Parks and Beaches new...
Oregon State Parks and Beaches new rules & Fee Hikes!
Re: Oregon State Parks and Beaches new rules & Fee Hikes!
We're fighting several battles with State Parks here.

The new proposals, discussed here, deal with what kinds of activities require permits. The proposal talks about "groups" and "events" and we don't know exactly what that mean. Note that festivals have always required permits. The question is whether three friends getting together also need one. Yes, we'll let folks know about the next draft.

We're also fighting over the question of kite safety. Local officials here on the Central Coast have suddenly decided that "large" kites are dangerous. No history of accidents. Actually, we have more injuries with kite surfers, dory boats, and large holes dug by kinds and left in the sand.... But as Phil suggests, the real issue may be maintaining toilets and trash bins. We're meeting next week to talk this through.

Thanks for your ongoing support.
davidgomberg
Administrator has disabled public posting. Please login or register in order to proceed.
Re: Oregon State Parks and Beaches new rules & Fee Hikes!
OK, decided to post it anyway. I tried to shotren it, really I did.
I've been involved in a very similar issue at the local government level. Several others have already posted valuable insights and advice so I'll try to confine my comments to a few salient points.
Often there is the issue of secondary agenda. Its a good bet that even in this case there is a secondary agenda at work and that makes it the issue more difficult to deal with. The general public may never know the real reason this has even become an issue. In my case I knew what that agenda was and it was still an arduous journey involving nearly two years of proposals, counter proposals, public hearings and getting to be on a first name basis with both the elected officials and administrative staff. Keep in mind that this issue may have it's roots in something as seemingly frivolous as someone of influence not liking being stuck in traffic while going through Lincoln City. Don't think that's out of the question, it isn't and that's just one example. Transparency is often not a priority in government circles.
Anyway, it is likely that administrative staff has been charged with proposing a "solution." If you think their solution is illogical, even nonsensical, chances are they think so too. Keep in mind they are responding to the stated issue, not the secondary agenda. It is in the kiting communities best interest to be on the staff's side. Even establish some empathy if possible. I realize that may be pretty tough to do at the state level because it usually requires face to face interaction. None the less IMO its best to assume a supportive posture even while offering an alternative. Yes, an alternative. Just shouting "don't do this" has a lower probability of success than offering a viable alternative. Keep in mind that if enough concern is expressed the issue may well be sent back to staff for reevaluation and amendment. If access to staff isn't realistic then attempt to interact positively with the elected officials. Again, express constructive consideration of their problem in an attempt to solve yours. It's kind of speaking to the stated agenda while dealing with the "real" one. At some point a viable alternative that allows everyone to save face might be welcome. Especially if they think of it. <wink>
With that in mind it helps to focus on the goal. Of all the proposed rule changes there has to be one that's key. Off the top of my head I would suggest that in this situation the key is " non-traditional activities." It would seem to me that kiting on Oregon's beaches is very much a traditional activity. That might be the place to start. When I was trying to persuade the decision makers I searched everything I could find that depicted kiting as a positive element of our communities recreational activities, especially "family" oriented activities. The goal was to get kiting on the positive side of the activity list then work on what would be acceptable to both parties on the negative side. Even offer some changes to the regulatory language and while doing so remove some of the ambiguity in other sections. Semantics counts!
I think Dave is probably right about this action being initiated higher up the food chain. That may require a different strategy. I know there are several active kiting organizations in Oregon, might be time to start lobbying elected officials. Express concern rather than criticism and have a common focus. Chances are they won't even know what you are talking about but if they get enough public input they will ask someone to find out. That may be the opportunity for input that's needed to influence the outcome. I will continue to write the parks fellow but certainly input from out of state won't have as much impact as that coming from "locals."
One thing that has to be taken very seriously. Often when pressed the fall back position is "public safety." No one can argue against public safety. When fighting this type of battle one can't let the dialogue/debate go there. Public safety is a bell the can't be unrung. I'll give an example. California State Parks has a reg. that refers to dangerous activities. Sometimes referred to as the "dangerous game" rule. The way this rule is written it leaves the determination of what is dangerous to the Park Ranger and/or State Police officer. All they have to do is declare it "dangerous" and its a done deal. This makes enforcement of the regulation inconsistent. Interpretation varies from officer to officer. It's only fair to say that citations are seldom issued for this but they indeed are. When they are its usually not actually related to the kite flying but again, some secondary agenda. Hopefully early intervention and cooperation can prevent this type of nebulous regulation becoming part of Oregon's code.
Oldgoat
Administrator has disabled public posting. Please login or register in order to proceed.
» Oregon State Parks and Beaches new...
There are 0 guests and 0 other users also viewing this topic
Board Stats

Total Topics:

1576

Total Polls:

11

Total Posts:

7360

Posts today:

2
User Info

Total Users:

4317

Newest User:

Members Online:

5

Guests Online:

6256
Powered by Agora Pro 4
© Copyright 2007 - 2014 jVitals! All rights reserved.