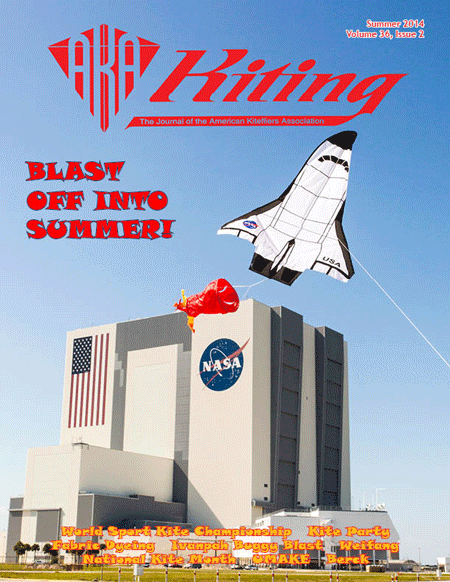 Kiting is a beautiful full-color magazine issued 4 times a year to all current members. Also check out the online-only
Kiting+
Home

Kite Talk Forum

Local Regions

Region 10

The Daily Astorian
Page
Start
Prev
1
Next
End
The Daily Astorian
http://www.dailyastorian.com/free/kitef … 963f4.html

By HUGH McKENNA
For The Daily Astorian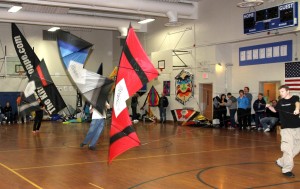 LONG BEACH, Wash. — With a sharp jerk of the strings, Ian Willoughby lifts his kite airborne and expertly guides it through spins, flips and long, sweeping circles before letting it fall downward to skim inches above the wooden floor before snapping it back up overhead. The kite flits past basketball hoops that rim the walls of the Long Beach School gym and hovers near the ventilation pipes that serpentine across the ceiling.

The 12-year-old from Medford, N.J., was the youngest of 22 competitors to participate in the Windless Kite Festival here Saturday and Sunday. Individuals, duos and teams put on choreographed air routines to music, earning points to qualify for the American Kitefliers Association (AKA) 35th Annual Convention and Competition in Enid, Okla., in October. The event featured many of the sport's elite, including national winner Connor Doran of Bend, who put the little-known sport in the national spotlight as a semifinalist on "America's Got Talent."

The fliers use kites made from ultralight fabrics and hollow carbon fiber rods designed to fly in a windless environment. Indoor kite pilots generate relative wind using various walking patterns; shoulder, arm and wrist movements; and pulls and jerks along the kite lines. Almost like dancing partners, each nuance of the flier's body is mirrored in the kite's movements. Judges scored on technical skills and choreography to the music.

Willoughby performed to a recording of One Republic's "Secrets," synchronizing his and the kite's movements to the soaring lyrics. His performance was quite a workout, involving running forward and backward, even dropping to his knees. He drew applause by placing one of the two handles in his mouth to guide the kite, and again when he walked the kite across the floor on the tips of its frame.

One of the featured guests, Willoughby said he's been flying indoor kites "pretty much since I could walk." He picked up the passion from his mom, Lisa, a national champion who competed this weekend in the master's class. As he stepped onto the floor to begin his routine, his mom called from the sidelines, "Have fun, Ian." He explained afterward that the high level of talented fliers made him nervous. After the competition ended Saturday evening, Ian asked national champion Toby Arndt to teach him some of his moves.

The oldest competitor, Dick Curran, of Edgefield, Wash., is in his upper 70s. A master showman, he stood out in his white tuxedo made by his wife, as he used a fishing rod to guide his handmade reflective-foil kite through its graceful movements to the song "Beautiful Dreamer." He finished with a flourish, doffing his top hat and taking a bow.

Father and son Jim and Nick Gates of Tacoma, Wash., were first-time competitors, performing individually one after the other.

Petite and lithe, Takako "TK" Barresi of Portland, incorporated ballet moves in a graceful performance with her Revolution kite. Originally from Japan, she has been competing in dual and quad-line flying since 2004 and with her husband and fellow competitor, John Barresi, produces Kitelife magazine.

Jerry Cannon of Auburn, Wash., lived up to his nickname "Mr. Smooth" as he glided a single kite, then a double-layer kite fluidly through twists, turns and pirouettes, and won Saturday's competition.

A towering figure, David Bradley of Portland was surprisingly light-footed and wowed the audience by purposely letting go of his kite's single string and then catching it midair.

While most chose classical, jazz or similarly lyrical music, Spence Watson rocked out to "A Whiter Shade of Pale," whipping his kite through sharp, angular, almost violent gyrations and using the entire gym floor for his routine.

With his black leather jacket and beard, Egan Davis of Vancouver, British Columbia., looked like he should have been handling a Harley instead of a kite. Known for his unique style and sense of program, he's performed in a hockey mask and even in a dress.

"Remember, you are watching professionals. Do try this at home," announcer Andrew Cimburek told the audience. "The point of this is to just have fun. It's hanging out with friends, flying kites and having fun, although flying outdoors sometimes incorporates rain, especially in Washington," he added, as rain and even snow pelted outside.
Edited by: TKS - 02-Jun-2012 21:55:35
Theresa
www.thekiteshoppe.com

AKA Region 10 Director
Administrator has disabled public posting. Please login or register in order to proceed.
Page
Start
Prev
1
Next
End
There are 0 guests and 0 other users also viewing this topic
Board Stats

Total Topics:

1576

Total Polls:

11

Total Posts:

7360

Posts today:

2
User Info

Total Users:

4317

Newest User:

Members Online:

7

Guests Online:

5444
Powered by Agora Pro 4
© Copyright 2007 - 2014 jVitals! All rights reserved.