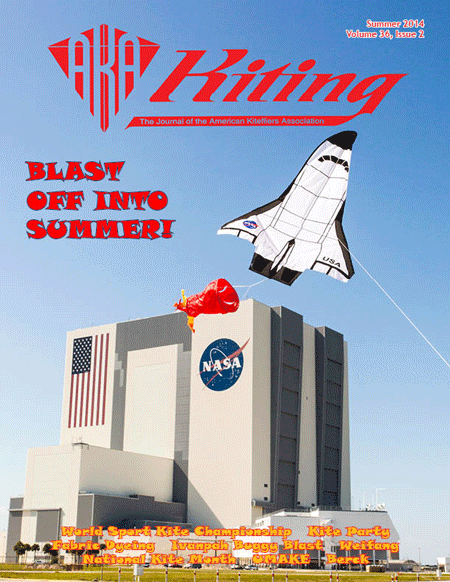 Kiting is a beautiful full-color magazine issued 4 times a year to all current members. Also check out the online-only
Kiting+
Home

Kite Talk Forum

Local Regions

Region 3

Blossom Kite Festival (fka Smithsonian)
» Region 3
» Blossom Kite Festival (fka Smithsonian)
Page
Start
Prev
1
Next
End
Blossom Kite Festival (fka Smithsonian)
Blossom Kite Festival (fka Smithsonian)
It's not too early to start thinking about kite flying in the nation's capital. Given the mild winter, the weather should be fantastic. Although that has also resulted in the cherry blossoms being out in in full force now - so there will not be any at the end of the month.


The Blossom Kite Festival, previously named the Smithsonian Kite Festival, is an annual event that is traditionally a part of the festivities at the National Cherry Blossom Festival on the National Mall in Washington, DC. Kite enthusiasts show off their stunt skills and compete for awards in over 36 categories including aerodynamics, beauty, box, and funniest. Top prizes are given for the Theme Award, People's Choice, Family Trophy, and Highest Overall Score. The Kite Festival is one of the most popular annual events in Washington, DC and features kite fliers from across the U.S. and the world. This year's event has an international focus and the theme is "100 years of friendship," encompassing 100 years of blossoms, Japan-US friendship and springtime in Washington, DC. The Japan Kite Association, represented by President Masaaki Modegi and Yoshizo Sakuraba will demonstrate Japanese woodblock printing and painting, and the art of Tsugaru kite flying.

Date and Time
March 31, 2012, 10:30 a.m.-4:30 p.m.

Location
On the grounds of the Washington Monument, Constitution Avenue & 17th Streets, NW Washington, DC. The most convenient Metro stations are Smithsonian and Federal Triangle.
TBHinPhilly
Administrator has disabled public posting. Please login or register in order to proceed.
Re: Blossom Kite Festival (fka Smithsonian)
The fighter kiters are up right after opening ceremonies, then a few categories of kite build judging with sport kiting demos mixed in. Next is a kids' mini-rok battle (on thread), then the hot tricks shootout and finally the main rok battle. Building categories are kids, adults and theme (3) the rest of it is a "kite show" against a stop-watch and mastered by Terry Murray running sound & MC duties. There are two fields, one for recognized activities such as those listed above, and another for the big kite fliers, club displays and banner gang. There's also a public flying field and a host of activities offered in tents surrounding the entrance.

There is NO parking anyplace nearby (free or pay!), unless you arrive before "oh-dark- thirty" Saturday morning, so plan on metro-rail/or bus service even if you have to drive out of the city proper to use it.

I can send you a detailed map (PDF) if you're interested and I hope to see you there personally!
don't need any wind and will fly in all weather conditions,
heck, I'll even use your kites
paulrlamasters
Administrator has disabled public posting. Please login or register in order to proceed.
Page
Start
Prev
1
Next
End
» Region 3
» Blossom Kite Festival (fka Smithsonian)
There are 0 guests and 0 other users also viewing this topic
Board Stats

Total Topics:

1576

Total Polls:

11

Total Posts:

7360

Posts today:

2
User Info

Total Users:

4317

Newest User:

Members Online:

7

Guests Online:

5675
Powered by Agora Pro 4
© Copyright 2007 - 2014 jVitals! All rights reserved.