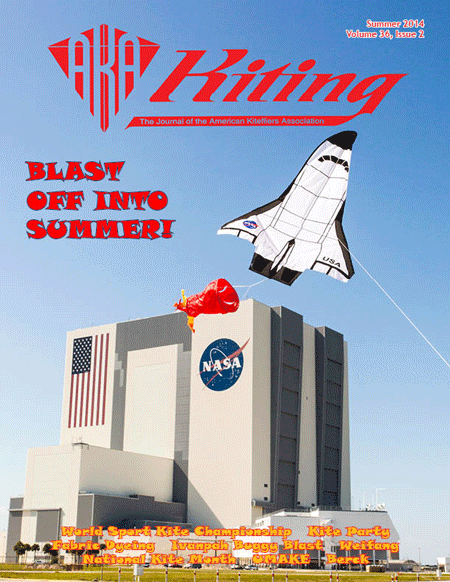 Kiting is a beautiful full-color magazine issued 4 times a year to all current members. Also check out the online-only
Kiting+
Home

Kite Talk Forum

Public Forum

Open Forum

Keystone Kiters Kitebuilding Retreat
» Keystone Kiters Kitebuilding Retreat
Page
Start
Prev
1
Next
End
Keystone Kiters Kitebuilding Retreat
Keystone Kiters Kitebuilding Retreat
Ceewan's Pointer has garnered lots of interest. It is made commercially by Ceewan, Premier, and Skyburner. But if you want to make your own, here's your chance (with Ceewan's permission—part of the fee goes to Ceewan)!
This reasonably large kite (11-feet long, 4-feet wide) flies well and is easily trained without a train's hard pull. This is a large area for some interesting graphics, and a recent workshop has resulted in some kewl kites. But if you want your own graphics, you have to design and put them in ripstop yourself. At the Keystone Kiters Summer Retreat.
On August 10, 11, and 12, Kevin Reynolds will present this wonderful kite in Camp Hill, Pennsylvania. Make reservations with Cinda Shannon (cindashannon@comcast.net), and indicate what you would like provided. We are prepared to do full kits (all materials, including nylon, reinforcement material, bridle cord, and spars), or any subset of this you may want.
Cost for the workshop (without materials or kits) is $65 ($75 after July 10). This covers the cost of that wonderful Keystone Kiters food and pays for Kevin to travel and stay in Camp Hill. What could be better?
Generally, all participants stay at the same hotel (usually in the nearby town of Mechanicsburg), so there's plenty of opportunity to mix and talk shop with some great kitebuilders. How can you resist?
So make your plans and register now! Procrastination won't make it easier, and waiting too long might mean you lose your chance!
When in doubt, tell the truth
bobkelly

Shamrok
Administrator has disabled public posting. Please login or register in order to proceed.
Re: Keystone Kiters Kitebuilding Retreat
I wish I could be there, but I can thoroughly recommend it to everyone. The Pointer is a lovely kite, but don't stop at one, because as Bob says, they fly very well in train, and since they have almost no pull are very easy to handle. Stacking them is as simple as tying a larkshead knot to each kite's pigtail, as they have no bridle. The large sail area gives a wonderful opportunity to the artistically-talented (or not) to produce some great designs. If you have the chance, it's too good to miss!

Jim
jimnicholls
Administrator has disabled public posting. Please login or register in order to proceed.
Page
Start
Prev
1
Next
End
» Keystone Kiters Kitebuilding Retreat
There are 0 guests and 0 other users also viewing this topic
Board Stats

Total Topics:

1576

Total Polls:

11

Total Posts:

7358

Posts this week:

6
User Info

Total Users:

4315

Newest User:

Members Online:

8

Guests Online:

3931
Powered by Agora Pro 4
© Copyright 2007 - 2014 jVitals! All rights reserved.